There are plenty of lessons learned. The next one is going to be more authentic with actual tape instead of "just paint" even though the paint is probably cooler.
So what does it sound like? It sounds great, we think. Download the MP3 and see for yourself. We recorded the file on December 12, 2004 directly into the computer using a TASCAM US-224 with Cakewalk SONAR software. The amp? A POD V.2, dialed up to manual with the Brit HiGain model with the Delay/Compressor combo for effects. You may recognize some of the songs...they are for illustration only.
Click here to download the approx. 2 meg file. We recommend that you right click on the link and save it on your Desktop.
Here are the POD 2.0 settings we used for the clip straight from the Line6 SoundDiver software. Click the image to see it full-size.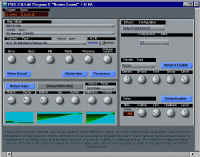 Let us know what you think!
BUT WAIT...THERE'S MORE. What about that Gibson logo decal on the headstock? Check out Page 4 for some answers.