Once the clear coats were on and dried for a week, it was time to buff out the finish. Shown here are the essential tools, from left to right.

1. A Wen random orbit buffer from Walmart. Quick, easy, and cheap. Check one out. I bought this one three years ago when I was finishing the Blue FM2.

2. 3M Finesse-It II polish. Wow...this stuff is really great. Best I've used for buffing a finish.

3. Two cups of fine sandpaper: one for the new paper on the left, and one to rinse paper on the right. I used the ReRanch schedule, but went from 600 to 1000 grit, then finished with 2000. From there, straigt to buff.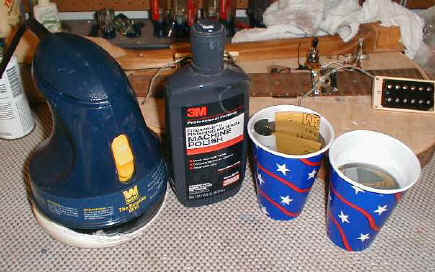 Buffed-out and hardware installed, the guitar looks great. Click on any of the next three photos to see full-sized images.

Again, we hope you have enjoyed the photos, and the discussion.

Let us know how you like our Goldtop!